Ship sinks. Who will pay up?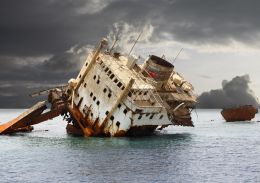 A cruise ship recently sank in Italy; most of the passengers were saved. The question now is who is responsible. And who will pay the bills?
The captain has said that he had to take the correct decisions in just a few seconds. As most of the passengers were saved he believes that he responded well to the situation. The cruise company has accused him of sailing too close to the coast and not following the disaster response plan.
So who will foot the bill now? What about the cancelled holidays, hospital charges, lost baggage, salvage costs, transport costs and repair or replacement of the cruise ship? To simplify matters, we will leave aside the international law issues.
The basic principle in the Netherlands is that the employer is liable for errors by staff if his orders have increased the likelihood of the error and if he was able to influence the behaviour that caused the problem. I don't have any information on the first point, but the second certainly applies. In addition, the cruise company is liable if insufficient precautionary measures were taken. Was there a proper system so that the captain knew where he could safely sail? Did he work long shifts? Was there a proper disaster response plan?
Hopefully the passengers will not have to get involved in the legal battle and the insurers will fight it out among themselves. The cruise company's insurer will check whether it is underinsured and whether it is at fault in any way. A criminal conviction for the captain would be of great assistance. The passengers can call on their own insurers if necessary. In most cases, the rule is: settle quickly or face lengthy court proceedings. In that case, there's no certainty as to who will pay. The question the viewers at home should now be asking themselves is whether they have proper travel insurance.
Advocaat: Betrokken teamspeler. Doelgericht en sterk in praktische oplossingen en creatieve strategieën.
Contact us