If you join in the demolition, you can help pay for the damage!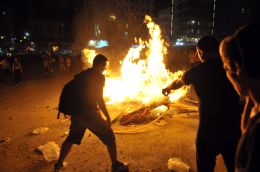 Parties can be lots of fun. Unless, of course, too many people turn up - then things can get out of hand. The people of Haren know all about this, after a teenager announced her Sweet Sixteen party on Facebook and it took on a life of its own.
For a short time, Haren was in the news all around the world (even on CNN) and a worldwide trending topic on Twitter. Even though it was widely predicted, the authorities were unable to prevent a teenager's birthday party getting totally out of hand.
The government, the old media and the new media are all pointing the finger at one another. The debate on this subject is likely to go on for some time yet. The partygoers (a.k.a. rioters) are being prosecuted and Job Cohen has been asked to conduct an enquiry. But prosecuting the rioters won't compensate the people of Haren.
Much of the damage will be paid for by insurers, but they don't pay for everything and of course you can only make a claim if you're insured. This raises the question of who will compensate the rest of the damage. It's difficult to point to the perpetrators when so many people were involved.
The legislation provides for this. If a member of a group causes damage, a claim for compensation for the damage can be made against all members of the group. So you don't need to prove which of the rioters actually caused the damage. If you join in the demolition, you help pay for the damage – even if you didn't actually do the deed in question.
If rioters cause damage, collect as much evidence as you can. For example, take a photo of the culprit with your mobile. If it's not clear exactly who carried out a specific action, you can make a claim against everyone in the group. That way, they can't hide behind one another to dodge the blame.
Advocaat: Eersteklas keeper. Combineert kennis van zaken met onuitputtelijke energie. Heeft de drive om te scoren.
Contact us